Coronavirus: Executive 'intends' to reopen NI schools next week
13 Posts
October 29, 2020, 10:42 am
Coronavirus: Executive 'intends' to reopen NI schools next week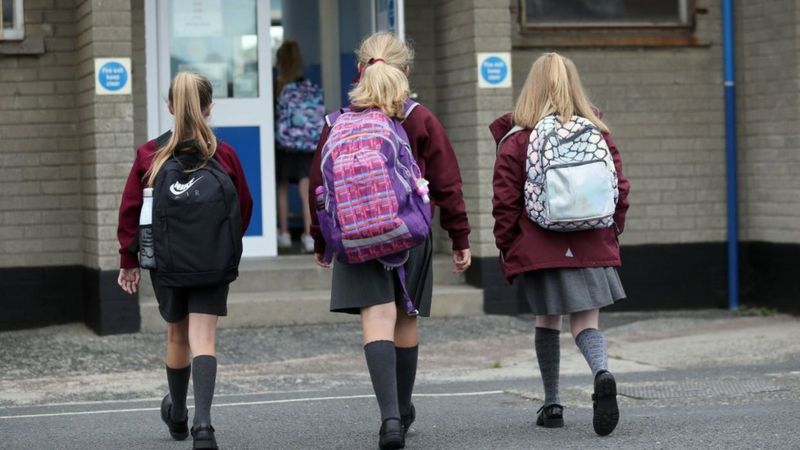 The NI Executive intends to approve the reopening of schools next week, BBC News NI has been told.
Schools closed on 19 October as part of tighter Covid-19 restrictions imposed by Stormont's executive.
The executive is due to meet on Thursday to review the closure.
The Department of Education (DE) said it remains the executive's "intentions that schools will reopen" on 2 November.
In a statement to BBC Radio Foyle, the DE said Education Minister Peter Weir's priority is "for the continuation of face-to-face teaching as the best form of educational provision whilst providing a safe and welcoming environment for children and staff".
Mr Weir has previously vowed to oppose any move to extend school closures in Northern Ireland beyond two weeks.
Last week, the Public Health Agency said there had been confirmed Covid-19 cases in half of Northern Ireland's schools since the start of term.
Deputy chair of Stormont's education committee Sinn Féin MLA Karen Mullan said the executive will be guided "by the scientific and medical advice".
"The evidence coming forward to us is the transmission within schools is very low, most of that is happening outside of school and brought into school," she told BBC Radio Foyle on Wednesday.
She added: "We all want to see schools open, it is the best place for our children and young people. I believe we will see schools open on Monday".
Colin Torrens, the principal of Lisnagelvin Primary School in Londonderry, said it had been schools' understanding that pupils would "most definitely be going back" on Monday.
"Listening to Peter Weir, he was adamant it was a two-week period only. I have always taken that to be the case".
'Managing anxieties'
Mr Torrens said measures are in place to ensure returning would not expose pupils or staff to any greater risk.
But there is some apprehension about pupils returning, he said.
"For children, probably the safest place to be is in school.
"But my concern would be that by letting schools go back you are allowing a situation where people have a bit more freedom and start to move about within the community again.
"It is about trying to manage the expectations and anxieties of both staff and parents as we try to return," he said.
There are still details of this story, you can follow it here. : pgslot
Click for thumbs down.
0
Click for thumbs up.
0
7 Posts
November 1, 2020, 11:22 pm
The main problem is, that we don't know what to expect in future.
Click for thumbs down.
0
Click for thumbs up.
0